The association
Canal and River Halts in Brittany, formerly called Canals of Brittany, was renamed in December 2018. Canals of Brittany had been created in October 2010 through the amalgamation of the Comité des canaux bretons (Breton Canals Committee) and the association Escales d'une rive à l'autre (literally Stopovers from one bank to another).
The association's role covers areas of activity:
To classify riverside communes as "City", "Stopover" and "Halt", known as "labels".
To promote a range of accommodation and itineraries between "labelled" towns.
To enliven the waterways.
To communicate about the waterways.
The Management Council of the association is made up of elected representatives of the member municipalities, tourism professionals, representatives of associations, individuals and two qualified members.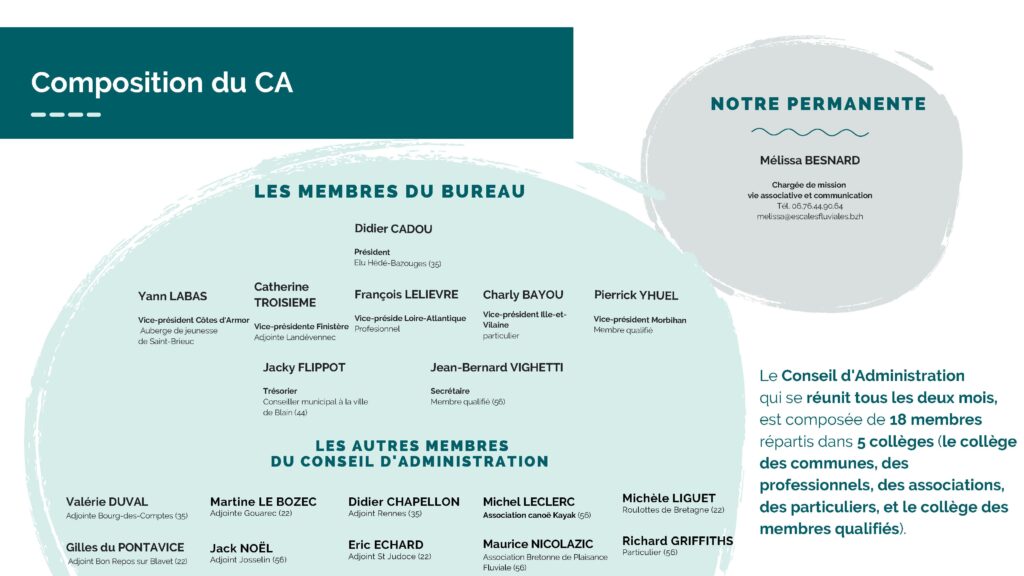 Our association brings together public and private groups associated with the waterways:  communes, Communities of Communes (groupings of neighbouring communes), professionals, voluntary associations and individuals.
We aim to develop the waterways in an environmentally friendly way. Canal and River Halts in Brittany liaises with all these groups and promotes activities to develop tourism and the waterways.
Deux raisons expliquent ces grands travaux. Le motif principal est stratégique, afin de déjouer les blocus maritimes anglais. Napoléon veut relier les ports par voies d'eau intérieures pour assurer sans danger l'approvisionnement des trois arsenaux : Indret (Nantes), Lorient, Brest.
The main missions of the association:
Membership of the association is made up of five groups (known as "colleges") : 
Local authorities (municipalities and groupings of municipalities).
Associations working in fields associated with the waterways – heritage, leisure, etc.
Professionals: boat and bicycle hire companies, ports, accommodation near waterways, etc.
Our association is the main point of contact for owners and managers of waterside businesses and activities.
If you live near the canal, or you are a tourist or day-tripper you can join as a private member. You will :
If you are a local authority, a tourism professional, or an association, joining demonstrates:
CLASSIFICATION – THE "LABELS"
CITY, STAGES, AND RIVER HALTS
The association has set up a system of labelling  to qualify services available in communes bordering the Breton waterways, known in French as "communes mouillées" (wet communes). The object is to enable visitors to identify the services available, as well as activities, heritage and events.
The labelled communes form a network that will help the visitor to discover and learn about the canals.
A "Cité fluviale de Bretagne" is a major site offering basic services (water, electricity, picnic tables, etc.), tourist services (accommodation and  catering), leisure activities, events and information on the heritage of the waterways, both natural and manmade. They have the facilities to welcome visitors for one or more nights.
OUR INSTITUTIONAL PARTNERS